Episode #7, Season 4 of Phishy Business: Criminals Are Like Water, Adapting to New Circumstances  
In this episode of Phishy Business, we discuss how criminals are like water because of how they flow, and adapt around obstacles and security measures, always looking for a way in no matter what security professionals put in their way. You'll learn more about how well-thought-out cybersecurity strategies, tools, and responses can be, especially in the military vs. the private sector, and, why this needs to be the case when protecting users from very fluid criminals.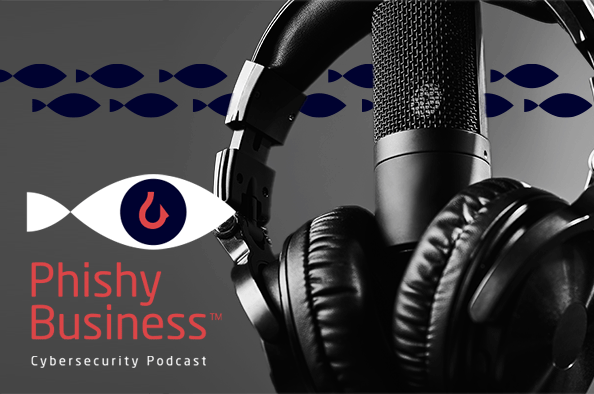 Our special guest is threat intelligence expert Jason Rivera, who is currently serving as a senior director in the Strategic Threat Advisory Group at CrowdStrike. He provides threat intelligence thought leadership to commercial and government organizations across the globe. Jason is an Army veteran who worked in cyber roles for the military, built cyber intelligence programs for civilian organizations, and today combines both of those elements of his experience into helping advise CrowdStrike and its customers on cybersecurity strategy.
In 'Criminals Are Like Water, Adapting to New Circumstances', we discuss:
The military vs. the private sector and understanding how they are not always what they seem.
Identifying the cyber domain as a new part of warfare, and how this is different from the traditional domains such as land, sea, and air.
How the need to understand risk is ever-increasing and how to best deploy scarce resources.
Identifying the various types of adversaries, what they're motivated by, how they operate, and how they sometimes collaborate with each other.
New trends in cybercrime such as callback phishing, data extortion, and multifactor authentication bypass, including what these are and how they work.
Cybersecurity vendor collaboration and how a second opinion is healthy.
How cybersecurity vendor integration and collaboration is increasing.
Being happy at work because if you're happy, a job doesn't feel like work and that happiness leads to much more productivity.
About Phishy Business 
Fed up with the same old cybersecurity stories? Come with us on a journey that explores the lesser-known side. Whether it's social engineering, taking criminals to court or the journalists hunting down hackers — our new podcast series, Phishy Business, looks for new ways to think about cybersecurity. Mimecast's very own Brian Pinnock and Alice Jeffery are joined by guests from a range of unique security specialisms. Each episode explores tales of risk, reward and just a dash of ridiculousness to learn how we can all improve in the fight to stay safe. For more tales of risk, reward and ridiculousness, subscribe to Phishy Business on iTunes, Spotify, Anchor or wherever you get your podcasts.