Episode #6, Season 4 of Phishy Business: Risk, Risk, Risk…and Beer: What Keeps the Cyber C-Suite Up at Night
In this episode of Phishy Business, we find out everything you may have wanted to ask your CISO or CIO but were too afraid to ask. Two very experienced information technology leaders delve deeper into the roles they play in keeping their organizations safe while balancing the nos and yesses they deal in every day. You'll learn a lot more about that it is like to be CISO or CIO and the challenges they face in their roles.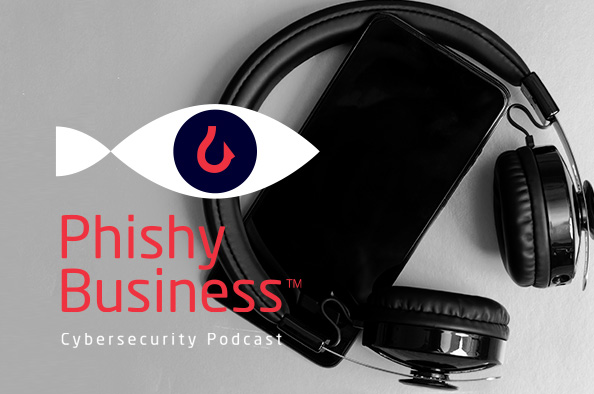 Our special guests are Magnus Carling, CISO at Swedish shipping company Stena, and Andrew Pritchett, CIO at Grant Thornton Australia, a leading accounting and consultancy firm. Magnus runs the global information security program for shipping conglomerate Stena, which is made up of a number of companies. Andrew navigates the challenges of the CIO role to balance pleasing clients while at the same time keeping client and internal resources safe. Learn more about these two leaders and their real-world daily challenges. 
In 'Risk, Risk, Risk…and Beer: What Keeps the Cyber C-Suite Up at Night', we discuss:
What it is like being considered the 'department of no' by colleagues.
The challenges of balancing protecting the organization with the needs of team members.
The crossroads of tech and people that occur every day at every organization.
How the weakest link in security can be people – and how to get that point across to those very same people.
The problems IT leaders face when the board don't speak cyber.
How to bring cyber risk in earlier in the board's conversations.
Conducting proper risk assessment before the big decisions instead of dealing with the fallout after an attack.
Keeping cyber teams together and not burning them out.
The difference between responsibility and accountability for CISOs in cyber breaches.
Why the need for CISOs to have battle scars from previous breaches is so valuable.
Beer as a stress relief strategy.
Why cybersecurity is everyone's business.