Episode #11, Season 4 of Phishy Business: Work Inspired – What's Possible in Shaping Corporate Culture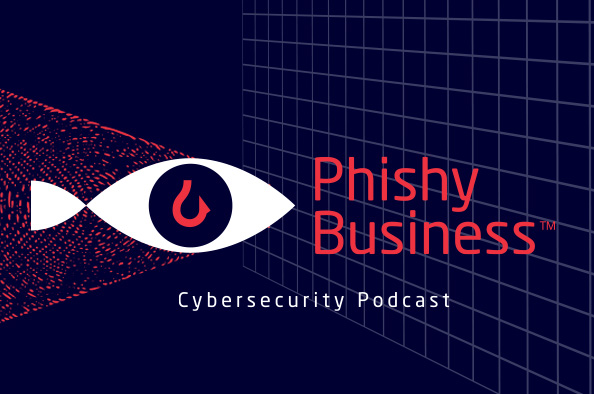 In this episode of Phishy Business, we discuss the idea of Work Inspired, a corporate culture where employees all love to work because it turns out that happy employees are very good for business.
Our special guest is Aron Ain, award-winning, retired CEO of UKG, formerly known as Kronos. Aron now serves as Executive Chair of the UKG Board of Directors and is also the author of Work Inspired, a book that depicts an inspiring example of what's possible in shaping corporate culture.
Aron transformed his company's culture at Kronos, building a billion-dollar business. Aron truly believes that great organizations are powered by great people and that great people build better products, services, and outcomes. He also believes the biggest challenge in building such an organization is creating an engaging environment where people feel wanted and valued. We also discuss how Aron's leadership style and authenticity were key weapons when his organization fell victim to a cyberattack.
In 'Work Inspired – What's Possible in Shaping Corporate Culture', we discuss:
How employees are a powerful strategic weapon in any organization.
The concept of being an 'unleader' and the importance of humility – how you don't need to throw your title around and be forceful to get things done.
Being conscious of being authentic.
How Aron handled the COVID-19 pandemic as a leader.
Aron's views on the future of work.
The importance of transparency and overcommunication when dealing with a cyberattack.
Why organizations often aren't transparent in the event of a cyberattack.
How Aron's values showed up in his people during the attack.
About Phishy Business 
Fed up with the same old cybersecurity stories? Come with us on a journey that explores the lesser-known side. Whether it's social engineering, taking criminals to court or the journalists hunting down hackers — our new podcast series, Phishy Business, looks for new ways to think about cybersecurity. Mimecast's very own Brian Pinnock and Alice Jeffery are joined by guests from a range of unique security specialisms. Each episode explores tales of risk, reward and just a dash of ridiculousness to learn how we can all improve in the fight to stay safe. For more tales of risk, reward and ridiculousness, subscribe to Phishy Business on iTunes, Spotify, Anchor or wherever you get your podcasts.