Companies Large & Small Consider 5G Opportunities — and Cyber Risks
5G networks are rolling out worldwide, and many companies could end up running their IT networks on 5G. But can they make 5G LANs cyber resilient?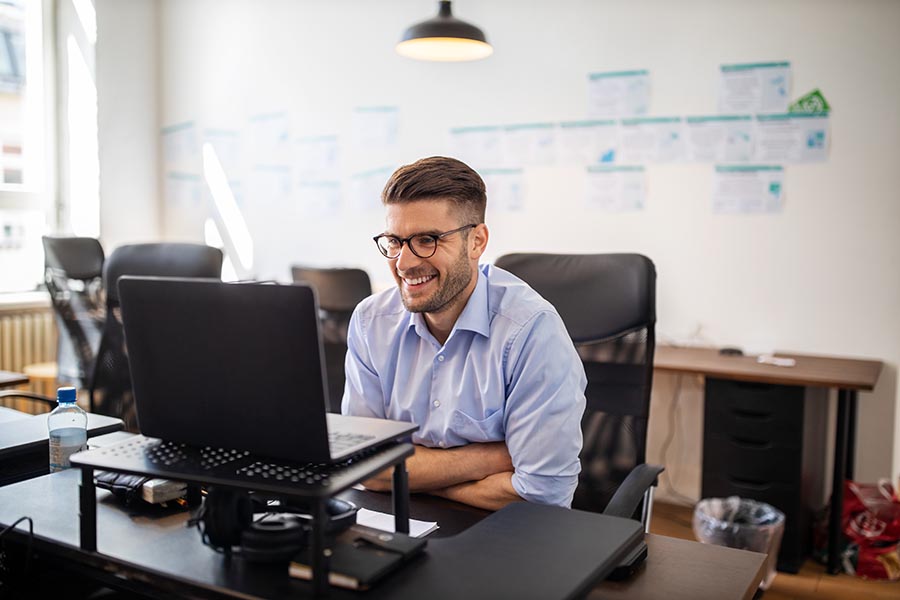 Key Points
Wireless network operators are racing to build out a global 5G network.
Companies stand to benefit from innovative services that promise increased speeds, low latency and high reliability.
Experts suggest now is the time to begin preparing for 5G cybersecurity.
As major wireless network operators around the world race to roll out 5G technology, they are building anticipation in companies large and small for a wave of innovations in business communications. Seemingly every segment of your company's network is up for reinvention — right down to the migration of your local area network (LAN) to the 5G network. Cyber Resilience Insights plans to explore the many levels of the 5G security discussion that's currently taking place worldwide.
LANs Evolve Toward 5G
While it will still take some time for 5G to become widely available, experts say it's not too early to start thinking about whether 5G might replace your LAN and what that could mean for your IT and security operations.
LANs date back to the 1960s, to link a company's devices in any one location, like an office building.[1] Over time, many have gone from wired to wireless, relying on Wi-Fi routers. But the common, wired Ethernet LAN is usually still faster than Wi-Fi and remains prevalent in companies alongside wireless LANs. Wired LANs are often considered more secure, as well.[2]
But now, 5G's faster-than-Ethernet speeds are expected to enable new business applications that require ever-greater speed, lower latency, high reliability and more mobility. That innovation is good for business.
Post-Modern 5G LANs Can Accelerate Advancing Technology
5G standards call for peak downlink/uplink speeds of 20/10 gigabits per second, with latency of 1-4 milliseconds, and the ability to connect 1 million devices per square kilometer.[3] That can be a big jump from Ethernet LANs, which run at speeds from 100 megabits per second to 10 gigabits per second, depending on their age.[4]
Those characteristics of 5G can help businesses drive revenue, Barclays Bank declared in a recent report, boosting productivity and collaboration while accelerating new and existing innovations such as the Internet of Things (IoT), Big Data, connected and autonomous vehicles, and augmented and virtual reality. Yet few companies are ready for 5G.[5]
In these early days, some companies' LANs are being incorporated into software-defined wide area networks (SD-WANs), which can link assets in the cloud, data centers and branch offices into a single system.[6] Those SD-WANs could act as a precursor, setting the stage for 5G. Over time, more and more LANs are expected to migrate to software-defined services on 5G networks.
What happens to your company's security strategy, though, if you take your LAN virtual via 5G?
What Might It Take to Secure 5G LANs?
Migrating your LAN to 5G raises new security questions. With your critical IT running off of virtual slices of public wireless networks, how exposed would you be?
For example, a lot has been made of the threat to cybersecurity posed by the billions of IoT devices expected to be connected to 5G networks. The worry is that a hacker could use any one of them as an entry point to the 5G network, then pivot to do wider damage that could impact your IT. Many of these inexpensive devices are expected to lack security features. And observers are concerned that the stakes will become higher as real-time applications for healthcare, smart cities, self-driving vehicles and other business- and life-critical activities move to 5G.
As the trade association for wireless network operators worldwide, the GSMA provides some early answers to these and other concerns.[7] A small sampling of its members' work on technical standards and business principles for 5G security includes:
"Secure by design" principles in the building of 5G networks and services, including the deployment of mutual authentication to confirm that a sender and receiver have an established trust.
Virtual network segmentation and resource isolation to ensure security and reduce the impact of successful attacks.
For the IoT and the edge of the network, protections against "man in the middle" interception of communications and fake base station attacks.
Artificial intelligence to proactively identify issues and take automated action to fix them.
Even with these and other precautions, the GSMA acknowledges that cyberattacks could still occur, and that each 5G advancement could bring additional new threats that wireless network operators will have to address.
On the regulatory front, meanwhile, a recent paper from the Brookings Institution, a Washington think tank, calls for a review of "whether current market-based measures and motivations can address 5G cyber risk factors and, where they fall short, the proper role of targeted government intervention."[8] In Europe, where a concerted effort on securing 5G was launched last year, all European Union member states have put in place a process to review and strengthen security measures for 5G networks.[9]
Preparing for a Secure 5G Future
With all of this technical and regulatory work at an early stage — and with consumers as the first focus of many 5G services — companies are being advised to plan ahead. Suggestions for weighing 5G's opportunities and risks are coming from many quarters, including advice from UK wireless network operator EE, part of British Telecom:[10]
Establish where 5G can make an impact first, possibly remote working.
Begin to prepare your networks and services, for example, by using more cloud networking.
Establish trusted partnerships with service partners for a reliable, secure transition.
Stay on top of 5G technology, regulatory and security developments.
Consider where 5G fits in your long-term business and network planning.
The Bottom Line
5G presents significant business opportunities for companies large and small, and those opportunities come with new cybersecurity risks. Many companies are expected to migrate IT infrastructure such as LANs onto 5G public wireless networks. Experts say to plan now, while security principles and standards are emerging, to be ready for the transition.
[1] "What is a LAN?", Cisco
[2] "Wired vs. Wireless Local Area Networks in the Office," NCC Data
[3] "The 5G Guide," GSMA
[4] "The Three Most Common Ethernet Speeds," Chron
[5] "5G: A Transformative Technology," Barclays Bank
[6] "The Four Most Important Networking Trends in 2020 and Beyond," IEEE Computer Society
[7] "Securing the 5G Era," GSMA
[8] "Why 5G Requires New Approaches to Cybersecurity," Brookings Institution
[9] "5G Security: Member States Report on Progress on Implementing the EU Toolbox and Strengthening Safety Measures," European Commission
[10] "Five Ways to Make Your Business 5G-Ready," ZDNet
Subscribe to Cyber Resilience Insights for more articles like these

Get all the latest news and cybersecurity industry analysis delivered right to your inbox
Sign up successful
Thank you for signing up to receive updates from our blog
We will be in touch!