What is website spoofing?
Website spoofing is a scam where cyber criminals create a website that closely resembles a trusted brand as well as a domain that is virtually identical to a brand's web domain. The goal of website spoofing is to lure a brand's customers, suppliers, partners and employees to a fraudulent website and convince them to share sensitive information like login credentials, Social Security numbers, credit card information or bank account numbers.
Stop website spoofing with Mimecast
Website spoofing attacks have become increasingly prevalent in recent years for two simple reasons: they're easy to execute and they work. Even unsophisticated attackers can register a domain that's very close to the domain of a trusted brand and build a site that looks identical to the brand's website. Then, using phishing emails, attackers can lure the brand's customers, partners, and others to the site and trick them into revealing sensitive information like credit card numbers, Social Security numbers or login credentials.
Website spoofing is incredibly difficult to identify. Because the scam takes place outside of an organization's security perimeter, website spoofing is typically only uncovered after number of users have already fallen prey to the attack. Mimecast addresses this problem with brand protection solutions that use machine learning and internet scans to identify suspicious domains and cloned sites, blocking them before they launch or stopping live attacks in their tracks.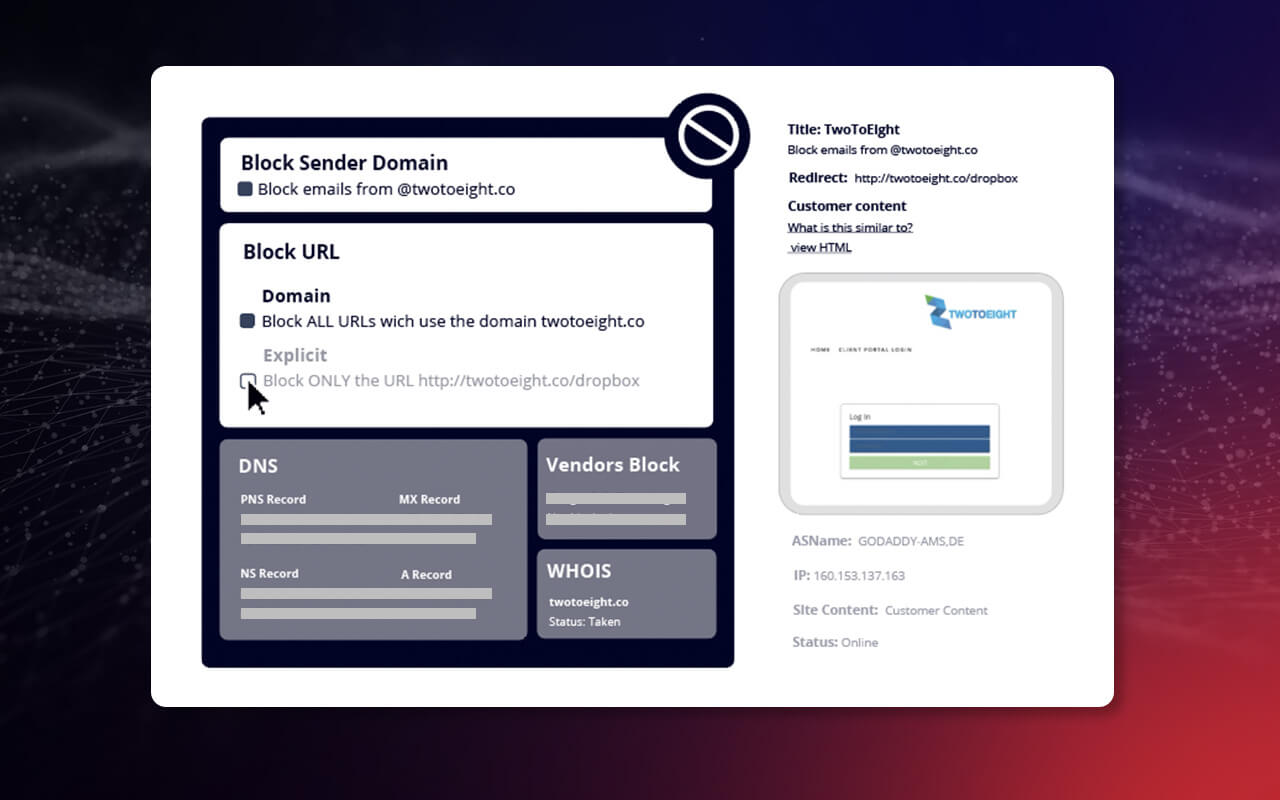 Mimecast brand exploit protect
To prevent website spoofing, this Mimecast Brand Exploit Protect uses machine learning to run quadrillions of targeted scans, searching for domains that are similar to yours and websites that may be spoofing yours. Brand Exploit Protect can identify even unknown attack patterns and block compromised assets at the earliest preparation stages – before they become live attacks.
This anti-website spoofing service enables you to:
Find and mitigate attacks where cyber criminals have cloned your website, regardless of the hosting domain they're using.
Block and take down both active scams and suspicious sites in the early stages of an attack.
Protect your employees, customers and partners from phishing scams that use domains and websites similar to yours to steal money, data and identities.
Protect against loss of brand reputation, loss of productivity and loss of business that can result from a successful website spoofing attack.
Mimecast Brand Exploit Protect is offered as a SaaS/Cloud-based service that can be implemented quickly to start protecting your brand immediately.
Benefits of Mimecast's website spoofing solution
With Mimecast's anti-spoofing technology, you can:
Extend your security defenses beyond your perimeter to defend your brand, customers, suppliers, employees, and anyone else who trusts your brand against attacks that are illegitimately using your digital assets.
Take immediate action to stop active scams and block suspicious domains and URLs.
Limit the value and use of data stolen through website spoofing attacks.
Increase your return on investment in Mimecast technology by providing your security team with a more comprehensive solution for business Internet security
Integrating brand, web and email security
To augment defenses against website spoofing, Mimecast offers leading solutions for:
Email Security: Mimecast Email Security with Targeted Threat Protection provides multilayered defenses against a wide range of email-borne threats. Using multiple detection engines and threat intelligence feeds, this Mimecast service defends against sophisticated and targeted threats like spear-phishing and zero-day attacks. Using innovative applications and policies, Mimecast can also block malicious URLs, neutralize malicious attachments, stop threats that originate or spread internally, and identify malware-less impersonation attacks that use domain similarity and social engineering for spear-phishing and business email compromise campaigns.
Web Security: Mimecast Web Security adds monitoring and security at the DNS layer to block malicious web activity like DNS spoofing and malware attacks. Web Security can also enforce acceptable web use policies by blocking access to business-inappropriate sites and help to minimize the use of cloud applications that represent a shadow IT risk.
Email Authentication: Mimecast DMARC Analyzer helps to simplify DMARC deployment and management. With DMARC analyzer, your security team can stop spam and cyberattacks where scammers are trying to spoof an email address as part of a website spoofing or spear-phishing campaign. DMARC Analyzer also offers a free DMARC, DKIM and SPF validator that can help to improve email delivery and security by uncovering errors in DNS records.
FAQs: Website spoofing
What is website spoofing vs. domain spoofing?
Domain spoofing is another name for website spoofing.
What is website spoofing vs. email spoofing?
While website spoofing uses a fake domain name and fake site to steal data, money and identities, an email spoofing attack spoofs an email domain to make a message appear as if it comes from a trusted source. Often, cyber criminals use both email and website spoofing in a coordinated campaign, getting users to click on a link in an email that takes them to a spoofed website.