Episode #10, Season 4 of Phishy Business: Cyber Extortion – The Next Evolution of Ransomware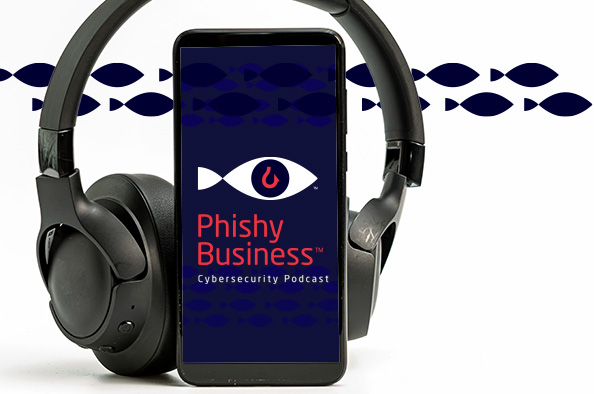 In this episode of Phishy Business, we discuss the very definition of ransomware and how it can be an overused and underdefined concept. We also take a closer look at the world of threat research.
Our special guest is former professional hacker Charl van der Walt, Head of Security Research at Orange CyberDefense, who now spends his time asking and answering the important questions around cybersecurity, specifically those that pertain to ransomware.
Charl believes we need to move beyond the term ransomware and look more at the concept of cyber extortion because the days of one-off ransomware attacks have given way to a massive, highly profitable, well-organized cyber-crime industry. Charl is working to ensure cybersecurity professionals look at ransomware more in terms as being part of a series of crimes in which security is breached and then something of value is taken and held for ransom. This is because ransom attacks are moving beyond just denial of access to data and are more frequently including confidential data exposure and denial of service in some form. 
In 'Cyber Extortion – The Next Evolution of Ransomware', we discuss:
Redefining the term "ransomware" as "cyber extortion".
Why cyber extortion is now a much more appropriate term for security professionals to use.
The main categories of threats in cybersecurity.
The trends in ransomware over the past few years that have led to its transformation.
How to effectively communicate about ransomware to a non-technical audience.
The work communities can do to prevent ransomware attacks, known as ecosystem-based security.
About Phishy Business 
Fed up with the same old cybersecurity stories? Come with us on a journey that explores the lesser-known side. Whether it's social engineering, taking criminals to court or the journalists hunting down hackers — our new podcast series, Phishy Business, looks for new ways to think about cybersecurity. Mimecast's very own Brian Pinnock and Alice Jeffery are joined by guests from a range of unique security specialisms. Each episode explores tales of risk, reward and just a dash of ridiculousness to learn how we can all improve in the fight to stay safe. For more tales of risk, reward and ridiculousness, subscribe to Phishy Business on iTunes, Spotify, Anchor or wherever you get your podcasts.