Mimecast Ranked In Fourth Consecutive Annual Deloitte UK Fast 50
Revenue grown 526 per cent over five years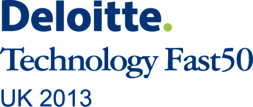 London, UK – Mimecast has been included for the fourth consecutive year in the 2013 Deloitte Technology Fast 50, a ranking of the 50 fastest-growing technology companies in the UK. Mimecast is one of only two firms to have appeared in each Technology Fast 50 ranking since 2010. The ranking is based on percentage revenue growth over five years and Mimecast grew by 526 per cent, achieving 45th place in the 2013 ranking. 
Peter Bauer, CEO and co-founder, Mimecast said, "We are delighted to make the Technology Fast 50 for UK technology firms again this year. To be ranked once is great recognition of the progress we are making as a firm but we stand out for making the list four years in a row. This shows we are leading the pack in our sustained performance in the UK tech sector. It also reflects our commitment to ongoing innovation, the constant hard work of our team and the enthusiastic support we are seeing for our technology and company from our partners and customers."

David Halstead, Partner leading the Deloitte Technology Fast 50, said: "The Deloitte Technology Fast 50 gives great profile to technology companies and is internationally recognised as being one of the most important business awards in the sector. The 2013 Deloitte Technology Fast 50 shows that tremendous growth rates are still possible, with software sectors showing particular strength, they have had the greatest amount of entries in the past five years."

"Achieving sustained revenue growth of 526 per cent over five years is a tremendous accomplishment," said Peter O'Donoghue, Deloitte Technology partner for London. "Mimecast's exceptional growth puts it in select company."
About Mimecast 
Mimecast (www.mimecast.com) delivers cloud-based email management for Microsoft Exchange and Microsoft Office 365, including archiving, continuity and security. By unifying disparate and fragmented email environments into one holistic solution that is always available from the cloud, Mimecast minimizes risk and reduces cost and complexity, while providing total end-to-end control of email. Founded in the United Kingdom in 2003, Mimecast serves more than 8,000 customers and 2 million users worldwide and has offices in Europe, North America, Africa, Australia and the Channel Islands.
About Deloitte:
In this press release references to Deloitte are references to Deloitte LLP, which is among the country's leading professional services firms. Deloitte LLP is the United Kingdom member firm of Deloitte Touche Tohmatsu Limited ("DTTL"), a UK private company limited by guarantee, whose member firms are legally separate and independent entities. Please see www.deloitte.co.uk/about for a detailed description of the legal structure of DTTL and its member firms. The information contained in this press release is correct at the time of going to press. For more information, please visit www.deloitte.co.uk.
Deloitte UK Technology Fast 50
The Deloitte Technology Fast 50 is one of the UK's foremost technology award programmes. Now going into its 16th successful year, it is a ranking of the country's 50 fastest-growing technology companies, based on revenue growth over the last five years. The UK Fast 50 awards are all about growth driven by leading intellectual property and are a celebration of innovation and entrepreneurship. The UK Fast 50 is part of an international programme run by Deloitte, qualifying entrants of the UK Fast 50 will be put forward to the Deloitte Technology Fast 500 EMEA (Europe, Middle East and Africa) programme. Previous winners have come from across the UK, are both large and small, and included some of the most dynamic players in all areas of technology, from Internet specialists to biotech, digital media technology to life sciences, computers to semiconductors and software to telecommunications.
Mimecast Social Media Resources
We welcome the opportunity to engage with the press and talk about our work and our industry.
North America
Timothy Hamilton
Public Relations Manager, North America
+1 (617) 393 7122
thamilton@mimecast.com
UK & Europe
Laura Barnes
Senior PR & Communications Manager
+44 (0)207 847 8700
lbarnes@mimecast.com
Africa, Middle East, India & Asia Pacific
Laura Rapson
PR & Communications Manager
+27 11 722 3700
lrapson@mimecast.com