Archive & Data Protection
GDPR: A Day of Reckoning or Transformation?
Expert Insight on Your GDPR Journey: Challenges, Solutions and First-hand Advice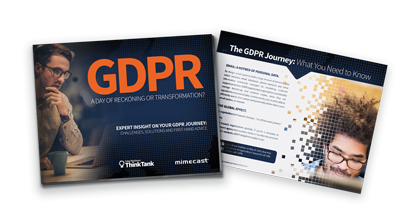 Don't freak-out about the European Union General Data Protection Regulation (GDPR). Instead, transform your approach to how you manage data privacy and security.
Not sure how to get started? We can help. Read this new e-book from Mimecast and the Cyber Resilience Think Tank to learn first-hand insight, experience and advice on how to prepare for GDPR compliance.
You will learn:
What you need to do on your GDPR Journey
The cost of non-compliance
How to build a "Trust Strategy"
Expert tips on prioritizing GDPR hurdles
And more
"Organizations are really going to start to freak-out the first time a company gets hit with a $20 million fine." – Ari Schwartz, Managing Director of Cybersecurity Services, Venable