Bewustwordingstraining voor beveiliging
Phishy Business - S02, Episode #03: Hoe 'level up' ransomware bescherming en het vreemde geval van het $54.000 losgeld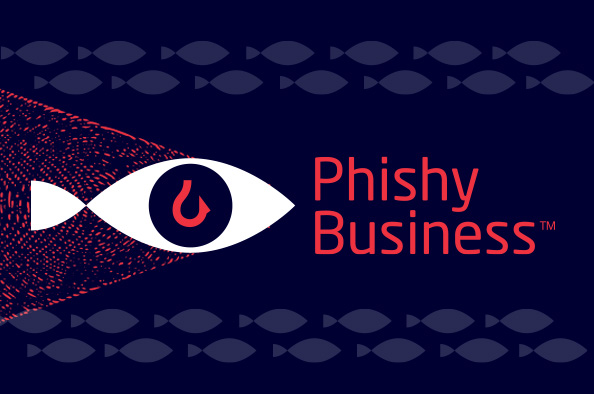 We bespreken het belang van verhalen vertellen in cyberbeveiliging, waarom MSP's (Managed Service Providers) een doelwit op hun rug hebben als het gaat om ransomware, hoe belangrijk het is om goed opgezette back-ups te hebben en hoe Bruce zijn doel bereikt om een miljoen mensen te helpen.
In "Hoe u ransomwarebeveiliging kunt 'levelen' en het merkwaardige geval van het losgeld van $54.000", bespreken we:
Hoe vertellen wanneer waarschuwen voor de gevaren van cyberdreigingen belangrijk is
Hoe klein of 'oninteressant' u uw bedrijf ook vindt, het is een doelwit voor cybercriminelen
Waarom MSP's een bijzonder doelwit zijn als het gaat om ransomware
Waarom zou iemand ziekenhuizen als doelwit kiezen bij cyberaanvallen
Het, misschien onsexy, maar cruciale belang van goede back-ups van gegevens
Over Phishy Business
Heeft u genoeg van dezelfde oude cyberbeveiligingsverhalen? Ga met ons mee op een reis die de minder bekende kant verkent. Of het nu gaat om social engineering, het voor de rechter dagen van criminelen of de jacht van journalisten op hackers - onze nieuwe podcastserie, Phishy Business, gaat op zoek naar nieuwe manieren om over cyberbeveiliging na te denken. Mimecasts eigen Brian Pinnock en Alice Jeffery worden bijgestaan door gasten uit een reeks unieke beveiligingsspecialismen. Elke aflevering verkent verhalen over risico, beloning en een vleugje belachelijkheid om te leren hoe we allemaal beter kunnen worden in de strijd om veilig te blijven. Voor meer verhalen over risico's, beloning en belachelijkheid, abonneer je op Phishy Business via iTunes, Spotify, Anchor of waar je je podcasts ook vandaan haalt.