Bewustwordingstraining voor beveiliging
Phishy Business - S02, Episode #01: The art of being a cyber smoke jumper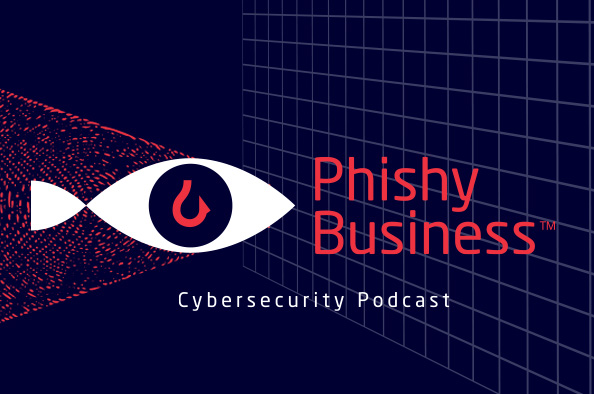 De kunst om een cyber rook jumper te zijn
We beginnen in stijl met Bryan Hurd, de oprichter van het Cyber Counterintelligence-programma van de Amerikaanse marine Naval Criminal Investigative Service (NCIS) en momenteel vice-president bij verzekeringsmaatschappij Stroz Friedberg, onderdeel van AON. We bespreken alles van terrorisme, de ransomware-dreiging, cyberverzekering, crisismanagement tot UFO's - voor de goede orde.
In deze aflevering van Phishy Business, 'De kunst van het cyberrookspringen', bespreken we:
De rol van de bedrijfsleiding bij een incident
Het vitale belang van 'black swan' event planning voor bedrijven
Hoe wetgeving en gegevens kunnen helpen bij de bestrijding van de ransomware-epidemie
Hoe de cyberverzekeringssector moet evolueren
Over Phishy Business
Heeft u genoeg van dezelfde oude cyberbeveiligingsverhalen? Ga met ons mee op een reis die de minder bekende kant verkent. Of het nu gaat om social engineering, het voor de rechter dagen van criminelen of de jacht van journalisten op hackers - onze nieuwe podcastserie, Phishy Business, gaat op zoek naar nieuwe manieren om over cyberbeveiliging na te denken. Mimecasts eigen Brian Pinnock en Alice Jeffery worden bijgestaan door gasten uit een reeks unieke beveiligingsspecialismen. Elke aflevering verkent verhalen over risico, beloning en een vleugje belachelijkheid om te leren hoe we allemaal beter kunnen worden in de strijd om veilig te blijven. Voor meer verhalen over risico's, beloning en belachelijkheid, abonneer je op Phishy Business via iTunes, Spotify, Anchor of waar je je podcasts ook vandaan haalt.